Marked Tree City Council discusses rail spur
Friday, February 17, 2012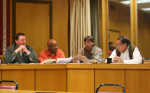 The Marked Tree City Council reviewed bids Monday night on a railroad spur to be built for the Awesome Products facility, but decided to table the bids until a special meeting.
Mayor Wayne Nichols said the city could not accept the low bid of $1,940,000 because it was beyond what the city can afford.
"We don't have the money to start on the railroad spur," he said.
He added there are alternatives the city can look into, such as getting help through Economic Development, but stressed he is not interested in borrowing money.
"We bought the land and the railroad company wanted more track. Things changed that were out of our control," Nichols said.
The council will decide how to proceed at a special meeting after finding out what alternatives are available to them.
The council passed a resolution accepting a revised budget for 2011. During discussion of the budget, council member Shane Glenn raised concerns over the city's future financial situation.
"What shape is Marked Tree going to be in three or four years down the road?" Glenn said. "The cost of everything's is going up and our revenue is going down. If we don't take this seriously, it's not going to be pretty in the next three to four years. If we didn't have that inheritance (a gift to the city from Robert Leet-Corday) we'd be in trouble. Nobody likes to talk about cutbacks, but reality is reality."
Mayor Nichols agreed the city needs to do something to tighten up and reduce expenses. That action will be necessary if the city is to have any money to work on the streets, he noted.
In other action the council:
* passed an ordinance changing the zoning classification of a property on 116 Jones Street from residential-2 to residential-3 so that a manufactured home can be moved to the lot to replace a manufactured home destroyed by a storm.
* passed an ordinance waiving competitive bidding to allow the water department to purchase a sewage pump to maintain the horse arena pumping station.
* approved a disaster recovery plan and a notice of violation letter sent to people who do not maintain their property.