Trumann mayor discusses belt tightening, more in annual 'state of the city' talk
Friday, February 17, 2012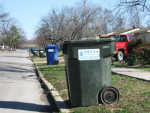 In a public meeting prior to the start of Monday's Trumann City Council meeting, Mayor Sheila Walters outlined the details of recent donations made to the city for an adult education facility.
Walters was quick to preface that with no "starter money" there will be no matching grant funds. However, in addition to an acre of land donated to the city by the Patterson family for the facility, the Sims family generously donated $250,000 to be matched in grant funds for the center.
"It will be top-notch" Mayor Walters said of the forthcoming facility. Emphasis will be given to creating a viable workforce through helping adults graduate with General Education Degrees (GEDs) and by promoting the facility to local industries.
During her annual "State of the City" address, Mayor Walters illustrated the events experienced by the City of Trumann and Trumann city officials during the past year. One topic discussed touched on two street crew employees who left their positions earlier in 2011, but were not replaced.
"Going in the hole is not an option for us," commented Walters. She explained that by not replacing the two employees, the city currently is in a better position to establish a more secure budget and to account for the increase in fuel for the coming year.
The council agreed to allow Tropical Twist Pizza of Trumann to operate as a concession for a one-year lease at the baseball field, but during tournament play only.
Perhaps the most anticipated issue on the evening's agenda concerned the turbulent ride Trumann has been experiencing with trash pickup and what the city is planning to do about it.
The council reviewed three bids for the temporary removal of Trumann's garbage and ultimately Marck Recycling and Waste Management won the the council's approval with a unanimous vote. The legal details of Marck's schedule are to be worked out in the coming days while the city entertains bids on its own trash truck to establish a service operated by the City of Trumann.