Trash piles now disappearing as city takes over garbage pickup
Friday, February 17, 2012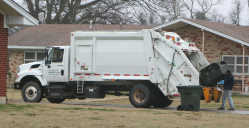 The City of Trumann is taking over the responsibility for residential trash pickup in the city this week after Delta Environmental, with which the city has a contract, failed to keep the trash collected.
That failure resulted in unsightly piles of trash in many residential neighborhoods and lots of complaints from angry residents.
The decision for the city to take over the task was made in a special meeing held last week. Delta Environmental continues to have a contract for commercial pickup through July 31.
Trumann Mayor Sheila Walters said she had talked to Delta Environmental president Glen Eaton about the possibility of Trumann doing its own trash collection.
The council voted to start accepting bids on a temporary residential garbage service to take over until the city can officially begin trash pickup service. To cover the increased cost that will come with the action over the next eight to 10 weeks, the council also passed an ordinance raising garbage rates to $15 per cart in the city limits and $21.50 per cart outside the city limits.
The new rate goes into effect March 1. Mayor Walters emphasized the rate hike is temporary until the city can officially take over garbage collection. She speculated the higher rate will continue through Aug. 1 at the latest.
The council also approved taking applications for a CDL driver for the sanitation department, as well as taking bids on a side loader, cans, a rear load commercial truck and containers for commercial customers.
Walters said the city does not anticipate being in the commercial business until Aug. 1, but noted that, given the atmosphere of uncertainty, city officials want to be prepared.
The council also hired Dedman's Sanitation to work an eight-hour day last Friday, focusing on the east side of town across the railroad tracks. Walters said there had been no service across the tracks for eight weeks and she was concerned it would not happen.
Dedman's Sanitation handled trash pickup in that area Friday and dumped the trash at the Crittenden landfill.
Walters said residents should start putting their trash out on Mondays for the time being.
Council member Kevin Baxter asked that local residents be patient and offered assurance the council has been trying to solve the garbage issues.
"I am defending this town, not just Ward 3," Baxter said. "I call the garbage company three to four times a day. We're fighting for the whole town, but our hands have been tied because of the bankruptcy laws. We want to reassure people that we are fighting for everyone. I'm speaking for everybody on the council when I say we are all doing everything we can do. We ask people to be patient as we work this out."
Walters also welcomed Mike Sullivan on his first night as a council member.