Trey Hindman celebrates one year with new heart
Friday, February 17, 2012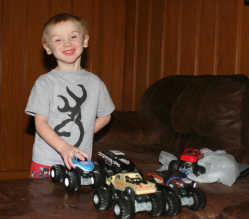 February is American Heart Awareness Month, and it's a special month for four-year-old Trey Hindman and his family. On Feb. 19, they will celebrate the one-year anniversary of a heart transplant which gave Trey new life.
Trey was born with hypoplastic left heart syndrome, a rare congenital heart defect in which the left side of the heart is severely underdeveloped.
Treatment requires several surgeries, but when an infection at the end of 2010 took away what little heart function Trey had left, the only option was to put him on a heart transplant list.
A month later he received his new heart. And a year later, Trey's mom, Tabatha, says he is just like every other four-year-old.
"He's very mischievous and independent," Tabatha said. "He's always into everything. He's just like every four-year-old as far as playing and jumping around. I tell him he needs to rest or slow down, but he says, 'Mom, I got a new heart.'"
After Trey got the new heart last February, the family had to stay in Little Rock until May while his meds were tweaked. Since they returned home to Poinsett County, he's been normal.
Before his transplant, Trey never knew anything was wrong with him. He might turn blue or get out of breath, but he wouldn't let that stop him. Now, Tabatha says, he can run up and down the hall without getting out of breath, and he's going to play teeball this year.
"He doesn't have physical limitations for the first time in his life," she beamed.
She is, however, careful about taking him out in public because doctors had to suppress his immune system to prevent his body from rejecting the new heart.
"I don't take him to Walmart or out in public too much, but when he does go out, he wears a mask to ward off germs. I'm cautious about who sees him, especially during flu season. My biggest worry is him catching something," Tabatha said.
Trey will have immunosuppression for the rest of his life, though the first year is the hardest to get through. He also will take anti-rejection medication for the rest of his life to make sure his body doesn't reject the heart.
"The more he's exposed to germs, the better his immune system will be," Tabatha said. Trey's doing well so far, having battled his first cold recently.
The Hindmans have had a lot of support from the community throughout the last year, with frequent posts from people on their Built Trey Tough Facebook page.
"There are people I don't even know constantly checking on or asking if we need anything," Tabatha said. "The community had fundraisers for him when we were having to go to Little Rock. Everybody's been really good and really helpful. Right now we don't need anything. Everything's back to normal."
The Hindmans don't know who the heart donor was, but Tabatha said she thinks about that family every day whenever she sees the scar on Trey's chest that tells of the heart that saved his life.