Lady Cards advance, boys fall
Thursday, February 23, 2012
Weiner's Lady Cardinals advanced to the finals of the 1A-3 East district tournament with a 64-59 overtime win over CRA. The boys let a nine-point lead slip away in the second half as they fell to CRA, 67-54. The boys and girls will advance to the regional tournament this week in Violet Hill.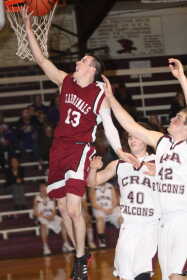 The first period was saw both come out and play well with Weiner taking a 16-13 as the period ended. The Cardinals outscored CRA 17-11 in the second period to take a 33-24 lead at half time. Weiner stretched that lead to 11 at 35-24 before CRA went on a 13-2 run to cut the lead to 37-35 a little over half way through the period. Weiner got the lead back to five at 40-35 before CRA closed out the third period on a 6-2 run to make the score 42-41 Weiner after three. CRA came out the last period on fire as they outscored Weiner 25-13 to take the win.
Drake Melton led the Cardinals in scoring with 18 points. Taylor Ozbun chipped in 15 points for Weiner.
"We played well in the first half but got away from what we needed to do in the second half," Weiner coach Casey Parson said after the game. "I'm proud of the guys and we'll get ready for regionals."
The first half of the girls' game was a back and forth affair before CRA opened a nine-point lead with a little over left in the period. The Lady Cardinals fought back with Peyton Craft hitting a three-pointer at the buzzer to cut the lead to three at 18-15 in favor of CRA. The second period was a close one as both played hard going to the locker rooms tied at 25. The Lady Cardinals outscored the Lady Falcons 17-12 in the third period to take a 42-37 into the final period. Weiner led by as many as six in the final period as CRA grinded away as the teams finished regulation tied 52-52. Weiner owned the overtime jumping out to a five-point lead as they outscored CRA 12-7 in the period.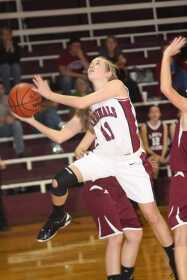 "We split with them (CRA) in the season, we felt lucky getting the win tonight on their home court," coach James Halitzka commented after the game. "Kaci (Mack) handled the ball well and hit some clutch free throws for us late."