EPC boys win district title
Thursday, February 23, 2012
EPC's senior basketball teams both captured trophies in the 2A-3 district tournament his past Saturday in Cherry Valley. The boys won their fourth straight district title with a 71-38 win over Riverside. The Lady Warriors faced top seeded BIC and lost 59-46. Both teams will advance to the Class 2A North Region regional tournament this week in Monette.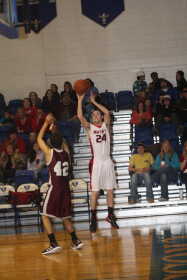 Jammar Sturdivant opened the scoring with a three-pointer and the Warriors were off and running opening up a 12-2 lead midway through the opening period. The period ended with EPC up 19-12. The second period was more of EPC hitting from inside and outside as they led 37-21 at the half. The second half saw a lot of substituting as EPC cruised to the win.
"We defended pretty well tonight," EPC coach Josh Hill said after the game.
EPC and BIC came out ready to play as the game was tied at 14 after one period of play. EPC led 29-23 at the half. BIC came out the third period and outscored EPC 16-7 to take a three-point lead into the final period at 39-36. BIC continued with the hot hand by outscoring the Lady Warriors 20-11 in the last period to set the final score.
EPC was led by Alicia Ross with 17 with Terrika Madden adding 11 points.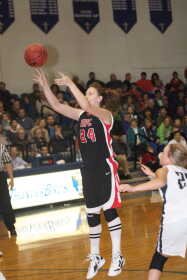 "Second half was bad, we had good looks but couldn't get much to fall in," EPC coach Bobby Lewallen said after the game. "We'll regroup and go after it next week."