Bay squads sweep titles in 1A-3 East District Tourneys
Thursday, February 23, 2012
Bays' senior boys and girls' basketball teams captured 1A-3 East district titles this past Saturday in Paragould. Bay downed CRA in the boys' title game 71-48 and the girls' posted a 45-41 win over Weiner. Bays' girls and boys along with the Weiner girls advance to the Class 1A Region 2 regional tournament this week in Violet Hill.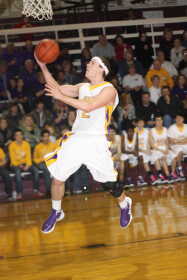 The 'Jackets got to the title game by downing Black Rock in the semi-finals by a score of 72-50.
Bay wasted little time jumping to the lead and held an 18-9 lead after the first period. Bay extended that lead to 11, 36-25 at the half. Bay outscored Black Rock 24-12 in the third period to go up 60-37 after three. Bay substituted freely the final period on the their way to the win.
Gunner Freeman led Bay with 25 points on the night. Dylan Loven added 21 for the 'Jackets.
"I thought we ran all our sets well against the zone tonight which has been giving us some trouble," Bay coach Brad Brannen commented after the game. "We missed some free throws early and we'll work on that next week in practice."
In the finals, Damien Holt led four Bay players in double figures on the night with 23 points. Freeman, Tyson Oliver and Kail Harris all netted 10 points apiece for Bay.
The girls' road was a bit tougher as they posted a 43-37 victory over Armorel in the semi-finals.
The teams started slow as they fought to a 7-7 tie after the first period. Both teams warmed up in the second as Bay took a 22-19 lead to the locker room. The third period was back and forth with Bay taking a one-point lead at 31-30 into the final period. The last period was a close battle with Bay taking a five-point lead only to see Armorel cut the lead to two at 39-37 with less than a minute left. Bay hit four free throws to finish out the scoring.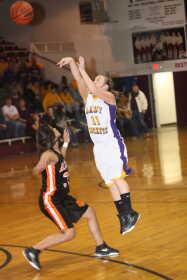 Courtney Francomano led the Lady 'Jackets in scoring with 14 points. Sara Sharp and Hannah Willard added 12 and 11 points respectively for Bay.
"We just kept grinding it out and we hit a couple shots there late to help us," coach Chad LaRose of Bay said after the game.
It was another close game in the finals as Bay hit four free throws in the final seconds of the game to get the win.
Willard led Bay with 19 points as Courtney Francomano chipped in 10 on the night.
Kaci Mack led all scorers with 23 points for Weiner.