Democrat Tribune welcomes new reporter
Friday, February 24, 2012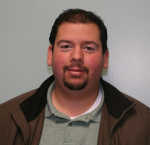 The Poinsett County Democrat Tribune recently welcomed new reporter Erik Wright.
Immediately after high school in Texas, Wright uprooted himself and moved back to his native home of Tucson, Ariz. He soon found work with a leading exploration geophysics firm and it was in this capacity that he traveled extensively throughout the southwestern United States and northwest Mexico.
Wright soon found himself enrolled in higher education in Tucson studying archaeology. He was employed by some of Tucson's leading cultural resource management firms, where he participated in archaeological projects throughout central and southern Arizona.
The majority of these consisted of historic Anglo sites, as well as prehistoric Hohokam and Salado sites.
Wright devotes the majority of his time to the research and writing of western history. His work has been featured in True West Magazine, Wild West History Association Journal, The Tombstone Epitaph National Edition, and Wild West Magazine.
Internationally recognized as an authority on frontier and borderlands violence, his current projects include: the Sydney Ducks gang of Gold Rush-era San Francisco, Apache captive Santiago McKinn, 2nd Lt. Charles Gatewood, Pioche, Nevada gunman Richard Moriarty alias Morgan Courtney and comparative studies between Australian and American outlawry.
Wright and his wife, Laura, live near Paragould.
Wright currently is working on his first book, a biography of John Fryer, Royal Navy, Master of the HMS Bounty under Lt. Bligh.
He is a member of the Arizona Historical Society, Adobe Corral of Westerners, Chicago Corral of Westerners (contributing member), English Westerners' Society (contributing member) and the Wild West History Association. He is a past member of the Arizona Archaeological Council and the Arizona Geological Society.
Erik can be contacted at ewright@democrattribune.com.