Miller speaks on cancer prevention
Friday, February 24, 2012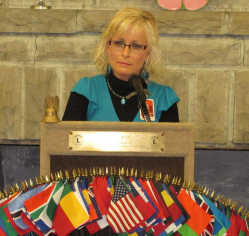 Yvonne Miller spoke last week to the Trumann Lions Club about cancer prevention and Relay for Life.
Miller had a personal experience with cancer 16 years ago and says it opened her eyes to what can she could do to help try and stop this disease.
Miller has been involved with Relay for Life for 14 years and has served as chairperson for the last three years.
Relay for Life is participating in the CP Study 3 campaign which is primarily researching a link between cancer and farm chemicals, Miller said.
Participants who choose to take part in the study will complete a form prior to the walk and will receive a packet by mail. Then each year, for the next 20 to 30 years, the participants will get a yearly form to be completed and returned.