Johnny Cash birthday tribute coming up Sunday
Friday, February 24, 2012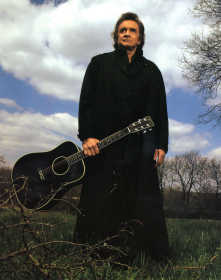 Sunday, Feb. 26, marks what would have been the 80th birthday of the late great Johnny Cash. To celebrate, many of Cash's family members are coming to Dyess this Sunday for a birthday tribute to The Man in Black.
The tribute will be held at the Dyess Community Center on State Highway 297 at East Fourth Street. Hosted by Arkansas State University, the event will begin at 2 p.m. and will officially launch the restoration of the Johnny Cash Boyhood Home.
Dr. Ruth Hawkins, director of Arkansas Heritage Sites, said organizers originally had planned to shuttle people out to the site of the house for the groundbreaking, but the muddiness of the land would make that difficult.
"Instead, the groundbreaking ceremony will take place at the community center," Dr. Hawkins said.
Dr. Hawkins said several of Cash's family members will be present, including his brother Tommy and sister Joanne.
"Four of his five children will be there, as well as a number of grandchildren and nieces and nephews," Dr. Hawkins said.
The Birthday Tribute will feature Cash family members singing and offering personal tributes and reminiscences.
The Johnny Cash Boyhood Home Project, which Dr. Hawkins is overseeing, also plans to announce upcoming national fundraiser projects for the restoration of several Dyess buildings, including the administration building, which will serve as a musuem, and the movie theater.
Hawkins added that long-range plans for the project include reconstructing the outbuildings of the Cash home, such as the barn and chicken coop, and eventually putting in a bike trail.
The Johnny Cash 80th Birthday Tribute is free and open to the public. Light refreshments will be served.