MTHS principal speaks at MT Rotary
Friday, February 24, 2012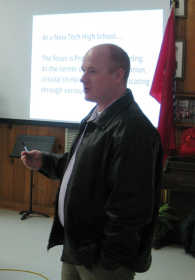 Marked Tree High School (MTHS) principal Matt Wright spoke Wednesday, Feb. 15, at the Marked Tree Rotary Club meeting.
Wright addressed an engaged audience about MTHS's implementation of the so-called "Common Core" curriculum.
Explaining the Common Core curriculum, Wright said, "Schools and institutions fail kids who are not being prepared for this new global market and workforce."
Wright said out of 3.8 million U.S. ninth graders, only 233,000 will choose a "STEM" job as a career. A STEM job, Wright explained, is a science, engineering, technology or mathematics-based job which reflects the worldwide need for trained, educated candidates to fulfill these positions.
Wright went on to outline eight key points detailing Common Core. Through training in "critical thinking, reasoning, problem solving, communication, responsibility, collaboration, creativity and technology and media skills" students will become active learners and a "viable asset for a global workforce," he noted.
Common Core is to provide every classroom with at least one type of computing device, Wright said. "Yet you can put a computer in a kid's hand, but if you don't have a teacher to go along with it it is not worth it," he added.