Trumann police chief is placed on leave pending investigation
Friday, February 24, 2012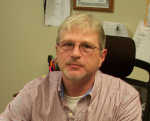 Trumann Police Chief Tony Rusher was placed on paid administrative leave last week pending the outcome of an investigation ordered by Mayor Sheila Walters.
Walters said she hired Phil Carter, a private investigator from Jonesboro and former special agent with the Arkansas State Police, to investigate Rusher.
Walters said Tuesday that she is awaiting the results of the investigation and would not elaborate further.
Rusher became police chief in March of 2009 after former chief Larry Blagg was killed in January of that year when he was struck by a falling tree branch while assisting with clean-up efforts following a winter storm.
Assistant Police Chief Gary Henry is serving as acting chief during the investigation.