Lady Cards finish second
Thursday, March 1, 2012
Weiner and Calico Rock met this past Saturday night in Brockwell for the girls' Class 1A Region 2 Regional title. Calico Rock used 11 three-pointers and a tight defense to post a 70-40 win over the Lady Cardinals.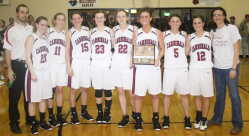 Weiner got to the championship game with a 63-46 quarter-final win over Norfork. Peyton Craft hit a shot in the lane with a few seconds left in overtime to give Weiner a 60-59 win over Viola and a spot in the title game.
Weiner found themselves down 6-0 a minute and a half into the championship game before Lexi Smith scored a basket making the score 6-2. Paige Craft hit a three-pointer to get Weiner the closest they got all night at 8-5 with 4:22 left in the opening period. Calico Rock closed the opening period on a 16-3 run, including three three-pointers, to open up a 24-8 lead after one period of play.
Calico Rock opened the second period with a 6-0 run making the score 30-8 before Weiner went on a 9-0 over the next three and a half minutes cutting the lead to 30-17. Kaci Mack and Katelyn Junyor each had four points during this run. Hunter Lewis scored the last points of the second period making the score 31-19 Calico Rock at halftime.
The third period was much like the first as Calico Rock had another big offensive quarter. The Pirates used a 22-10 quarter, hitting four three-pointers, to hold a 53-29 lead after three periods. Peyton Craft scored six in the period for Weiner.
Paige Craft opened the final period with a basket to cut the lead to 53-31. Calico Rock responded with back to back three-pointers to push the lead to 18 at 59-31 with a little over six minutes left in the game. The rest of the game saw the teams trade baskets as the Pirates went on to the win.
Paige and Peyton Craft along with Kaci Mack were selected for the regional tournament team.
Junyor led the Lady Cardinals in scoring with 12 while Mack finished with 10.
"We came out and got shell shocked," Coach James Halitzka said after the game. "They (Calico Rock) are good and when we figured out we could play with them, it was a little too late."