Molder discusses police academy with Lions
Friday, March 2, 2012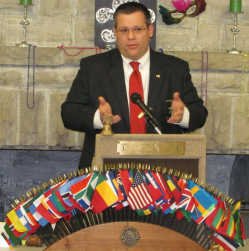 Kevin Molder, Chief Deputy Sheriff with the Poinsett County Sheriff's Office, was the speaker at last Wednesday's Trumann Lions Club meeting.
Molder has been in law enforcement for 17 years with 13 of those being served in Poinsett County. He was an instructor at the police academy for four years. Molder said Cabot used to be the only place where a new officer could attend the academy. In 1999-2000, a new facility was opened in Pocahontas. Each facility has two programs each year. Every new hire has to attend one of these two academies.
The students have to complete 620 hours of instruction over a 13 week period. They are taught the basics of law enforcement. Skills they are required to learn are ethics, defensive tactics, criminal law, traffic stops and accident investigation just to name a few. They have a full week they will spend on the firing range. There is physical training they do every day too. Exams are given on a weekly basis.
Reserve officers are only required to complete 120 hours for their certification. Every agency has to make sure the academy has been completed by their employees. If a participant fails the course, they must wait two years to retake it. Molder said community support and help is much needed.