MT robotics team victorious
Friday, March 2, 2012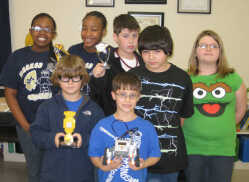 The Marked Tree School's FIRST LEGO League robotics team has returned from the 13th annual Arkansas FIRST LEGO League (FLL) State Championship in Little Rock as the victors.
Held Feb. 25 at the Clinton Presidential Center in Little Rock, Marked Tree competed against 32 other teams from across the state in a "Food Factor" challenge in which teams "built, tested, and programmed an autonomous robot using LEGO MINDSTORMS NXT to solve a set of food safety missions."
Marked Tree's winning robot, "Wally", took five months to design and build and the team of eight was given two and half minutes to complete as many challenges as possible.
"Every FIRST LEGO League challenge helps students discover how imagination and creativity, combined with science and technology, can solve real-world problems" said founder of FIRST LEGO Dean Kamen.