Bill Cook's legacy remembered
Friday, March 2, 2012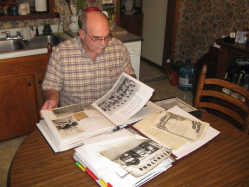 In August 1965, Dr. Archibald "Moonlight" Graham died in Chisholm, Minn. Veda Poinkevar of the Chisholm Free Press & Tribune wrote of Graham, "And there were times when children could not afford eyeglasses or milk or clothing. Yet no child was ever denied these essentials because, in the background, there was Dr. Graham. Without any fanfare or publicity, the glasses or the milk or the ticket to the ballgame found their way into the child's pocket."
If this sounds familiar, you likely remember it from the 1989 film Field of Dreams, with Burt Lancaster playing Graham.
Without a doubt, Trumann has lost its own "Moonlight" Graham: Billy V. Cook. A philanthropist and community leader, Cook died Feb. 13 in Jonesboro at 82 years of age.
The oldest and biggest of 12 children born to John Franklin and Ethel Mae Cook in September of 1929, Cook was described as a "vibrant, beautiful" person and "a father to many." Cook's legacy on the Trumann community is deeply seen in the outpouring of both grief and reflection following his passing.
Remembering his father, Tim Cook expressed that Cook "left awful big shoes to fill."
Betty Payne, president of the Trumann Lions Club, said Cook was "dedicated to helping and serving his community."
Cook's community involvement and philanthropy is too voluminous to make record of, however, it was Cook's own desire to not seek credit or recognition for his many good deeds -- which helps illustrate the caliber of man he was.
In 1937, Cook remained behind gathering driftwood for fuel during the flood. He later went to Magnolia A&M on a scholarship and played football for the Army. A long-time member of both Lions Club International and the American Legion, a Trumann Housing Authority member and Eagle Scout, Cook always stayed busy. Until recently, Cook operated Trumann Hardware, and it was in this capacity that many may remember him.
When others were in need, Cook came to their aide.
"He was always helping somebody," recalled Cook's daughter, Beth Mitchell. "He was a godly man who never turned anyone away. He was larger than life."
Cook was for many years deeply involved with both leadership roles and community-wide charity work in Trumann. He had served as a member of the Trumann city council, was bestowed Trumann's Outstanding Citizen Award and was a dominant force behind many civic projects, such as the American Legion Memorial Park and Boy Scout Hut. Cook also was an abiding and devout family man, caring for his ailing wife in her final years by learning and mastering all the domestic duties.
Former Trumann resident and Cook's friend, Richard Albert Walker, said of Cook, "His passing is a tremendous loss for the citizens of Trumann. I personally feel an enormous loss for this kind, compassionate giant -- not of size but of heart -- with heart and goodness that not many humans possess."
Bill Cook indeed was a rare breed of man. A man whose benevolence, love and humanity to the community will not be forgotten.