Mountainburg's first quarter barrage buries Lady Indians 63-39
Thursday, March 8, 2012
Mountainburg stormed to a 20-5 first period lead and went on to roll to a 63-39 victory over Marked Tree's Lady Indians in the first round of the 2A State Tournament Tuesday afternoon at Cedar Ridge High School.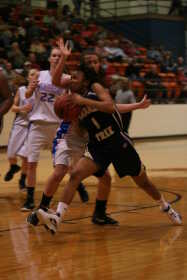 The Lady Dragons jumped out to a 6-0 lead before Marked Tree got its first two points from Poohnu Perry with 4:52 left in the first quarter. Four consecutive treys, two by Madison Backus, gave Mountainburg an 18-3 lead with 2:17 left in the period. The Lady Dragons held a 20-7 advantage after the opening quarter of play.
Mountainburg built on its lead in the second quarter and took a 34-13 advantage into the dressing room at intermission.
The Lady Indians played on even terms with Mountainburg in the third period, behind the scoring of Poohnu and Jay Perry, but still trailed 51-31 entering the final frame.
Mountainburg coasted the rest of the way in advancing to the quarterfinals of the state tournament.
"Mountainburg's half court trap gave us a lot of problems today," said Marked Tree Coach Derik Drewett. "They got a couple of favorable bounces on three pointers that helped them stretch their lead out. We just weren't able to hit anything early on. It put us in a hole early and we weren't able to catch up the rest of the way. We are a young team with everyone coming back. Getting to the state tournament gives us something to build on," concluded Drewett.
Poohnu Perry led Marked Tree with 18 points while Jay Perry added 11. Caflora Hillis netted six, Lexi Perry scored three while Dez Reel added one point. The Lady Indians hit seven of 11 free throws and made three treys while committing 22 turnovers.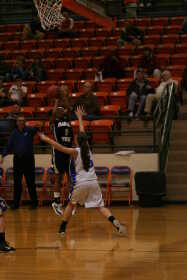 Tara Webb and Auburn Peters led Mountainburg with 16 points apiece. Backus scored 12 while Destiny Webb added 11. The Lady Dragons hit nine of 12 free throws and finished with four three pointers, all in the opening period.