Lady Warriors advance to state finals with 63-59 win over Mountainburg
Thursday, March 8, 2012
East Poinsett County built an 11 point fourth quarter lead before holding off a late three point barrage from Mountainburg to hang on for a 63-59 victory in the semifinals of the 2A State Tournament Saturday night at Cedar Ridge High School.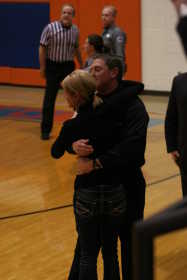 The victory sets up a showdown with England for the 2A State Championship Thursday afternoon at 3:30 in Hot Springs.
EPC built its double digit lead, thanks to the strong inside play of junior Alicia Ross and senior Brittany Ball, who combined for 35 points on the night.
Mountainburg rallied on the strength of four consecutive three pointers, all in a 2:30 minute span, cutting the Lady Warrior lead to 52-49 with 3:05 left in the game. Ross sank a 10-footer to push the EPC lead to 54-49 at the 2:35 mark, but the Lady Dragons answered on an inside bucket by Auburn Peters with 1:50 to go, slicing the Lady Warrior advantage to 54-51.
Brittany Ball and Ross connected on back to back buckets to give EPC what appeared to be a comfortable lead, 58-51 with 45 seconds left, but the Lady Dragons charged back one last time when Madison Backus and Destiny Webb pumped in consecutive three pointers, the last coming with 24 seconds left in the game to cut the Warrior lead to 60-57.
Mountainburg, forced to foul, sent Teria Young to the line. The junior calmly sank both ends of the one and one, giving EPC a 62-57 lead with 22 seconds to go.
Danielle Smedley scored for the Lady Dragons, cutting the Lady Warrior lead to three with 12 seconds left. Mountainburg immediately fouled Whitney Ball on EPC's next possession. Ball went to the line and missed both ends of the double bonus, but Terrika Madden skied high, grabbing a crucial rebound while being fouled on the play. Madden hit one of two free throws to ice the game away with seven seconds left.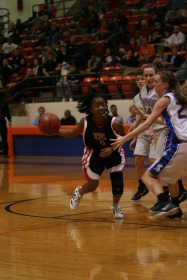 Mountainburg took a 14-12 lead after the opening period, despite Ross' eight first period points. The Lady Warriors rallied in the second quarter behind Ross and Young to take a 32-28 halftime advantage. Madden's three pointer with five seconds left before intermission gave EPC its four point cushion. The Lady Warriors stretched their lead to 42-35 after three periods.
Ross led EPC (26-8) with 22 points and 15 rebounds while Brittany Ball added 13 points and 14 boards. Young also netted 13 points while Madden scored 11. Whitney Ball and Snyteria Ward chipped in two points apiece. The Lady Warriors struggled from the foul line, hitting just 11-23 shots and finished with three treys.
Backus led Mountainburg (31-3) with 20 points while Peters finished with 13. Mountainburg was five of six from the foul line and drilled 10 three pointers on the night.
"Our game plan was to get the ball inside to Alicia and Brittany, especially when they played man defense," said EPC Coach Bobby Lewallen. "It worked to perfection tonight. They really worked the high-low offense very well. We were able to withstand a fourth quarter spree of three pointers by Mountainburg. We tried to get on them but everything they threw up went in. Terrika Madden came up with a huge rebound for us late in the game and gave us a four point lead with a big free throw. We didn't want them throwing in a three at the end and tying the game," said Lewallen.
"I had a speech all planned out if we won tonight, but when I went in the dressing room I couldn't think of what it was," continued Lewallen. "But the girls all ran to me and gave me a hug, which was better than any speech I could have given," concluded Lewallen.
EPC advanced to the semifinals with a 48-37 win over Magazine in the first round on Tuesday before defeating Strong 53-31 in Friday night's quarterfinals.
Teria Young scored 16 points to lead the Lady Warriors over Magazine. Madden also hit double digits with 10 points. Whitney Ball scored nine, Ross netted five, Brittany Ball tallied four while Ward contributed three points.
Kenzie Graham pumped in five three pointers and finished with a game high 23 points to lead the Lady Rattlers.
Magazine led 12-10 after the first quarter, 25-21 at the half and took a 35-31 edge into the fourth quarter. EPC outscored Magazine 17-2 in the final frame for the come from behind victory.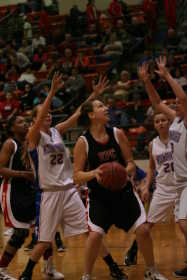 Whitney Ball recorded a double-double with 12 points and 10 rebounds in EPC's victory over Strong. Ross and Teria Young scored 10 points apiece, Brittany Ball netted eight, Madden chipped in seven while Ward added six.
Briana Newton led Strong with nine points.