Warriors set to defend state championship title after victory over Clarendon
Thursday, March 8, 2012
Defending State Champion East Poinsett County held off a determined Clarendon team, connecting on seven of eight free throws in the last minute to hold on for a hard fought 50-45 victory in the 2A State semifinals Saturday night at Cedar Ridge High School in Newark. The victory advances the Warriors to a Thursday afternoon battle with Junction City at 5:15 p.m. in Hot Springs.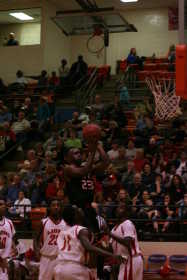 The Warriors, looking for back to back state titles, got a huge game from senior forward A. J. Turner, who scored 18 points and grabbed 11 rebounds. "I felt like I owed my teammates a big game," said Turner. "I didn't play well at all in the quarterfinals and I knew I had to play a great game tonight. Coach Hill challenged me before the game to really hit the boards and assert myself. The team really worked hard on free throws and rebounding going into the tournament and it paid off for us tonight. We are thrilled about going back to the state finals," said Turner.
Turner scored 10 first quarter points to give the Warriors a 12-7 lead. EPC led 17-13 with 4:30 left in the half before Steve Tyler hit back to back buckets for Clarendon to tie the game. The Lions completed an 8-0 run on another Tyler bucket and a pair of free throws by Jalen Barker, giving Clarendon a 21-17 lead at the 2:21 mark of the second quarter.
The Warriors proceeded to connect on three consecutive treys, one by senior Wendell Pritchett and back to back three pointers from Jamar Sturdivant to take a 23-21 edge with 1:17 left in the half. The Lions came right back on a basket by Jamar Jackson and a 10-footer by Tyler with two seconds left, giving Clarendon a 25-23 halftime edge.
Pritchett began the third quarter with a trey to put EPC on top, 26-25. The Warriors stretched their lead to 32-25 on a Darius Barnes lay-up and back to back buckets by Turner at the 5:41 juncture. Jackson brought the Lions back, scoring the game's next seven points, including a conventional three point play at the 2:49 mark to knot the game at 32 points apiece. Sturvidant closed out the quarter with a pair of driving buckets to give EPC a 38-34 lead at the break.
Sturdivant nailed a three pointer for EPC with 6:51 left in the game for a 43-38 lead, but EPC would go nearly 6:00 before they would score again, giving the Lions plenty of opportunities to catch up or take the lead. Clarendon had difficulty scoring as well, but eventually tied the game on a Jackson free throw, 43-43, with 2:17 to go.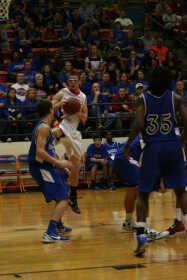 EPC finally broke its scoring drought on a pair of free throws by Turner with 57 seconds left, giving the Warriors a 45-43 edge. Jackson drove for the basket, but missed the shot, and Jori Ford rebounded for the Warriors. Clarendon was forced to foul, sending Sturdivant to the line with 32 seconds remaining. The 6'0" junior calmly sank both ends of the one and one, giving EPC a 47-43 lead.
Turner blocked Deshaun Eason's three point attempt on the Lion's next possession. Ford was fouled and went to the line, sinking both free throws for a 49-43 Warrior advantage. A late free throw by Sturdivant set the final score.
"I knew this would be a tough game," said Warrior Coach Josh Hill. "Jamar Jackson is so good. He can single handedly keep his team in the game. Everything we tried to do was set to stop him, but he just kept scoring. Our kids played hard and showed why they are a championship team. They never gave up and they made the plays they had to in order to win the game. We really rebounded well in the last couple of minutes. A. J. came up big. He played a great game tonight. Jamar also played well offensively, coming up with some big baskets. I am very proud of our team for getting back to the state title game," said Hill.
Joining Turner in double figures for EPC was Sturdivant who led the Warriors with a game high 20 points. Pritchett scored six, Barnes netted four while Ford added two points. EPC finished nine of 12 from the line. The Warriors connected on five three pointers on the night.
Jackson led Clarendon with 19 points while Tyler scored 14. Avion Hampton finished with 10 points for the Lions.
The Warriors advanced to the semifinals with a 77-44 thrashing of Danville in Tuesday's first round action before defeating Parkers Chapel 49-33 Friday night.
Ford pumped in 21 points while Sturdivant added 19 in EPC's victory over the Little Johns. Barnes scored eight, Pritchett netted seven, Turner and Aaron Scales tallied six points apiece, Paul Pilgrim added four while Martin Powell and Chandler Smith chipped in three points apiece. The Warriors drained 10 three pointers on the night.
Jacob Eggleton led Danville with 18 points while Jeffrey Spikes added 11.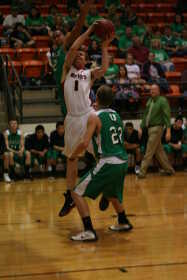 EPC led 26-16 after the first period, 48-25 at the half and 70-36 after three quarters of play.
Pritchett scored 19 points to lead the Warriors over Parkers Chapel. Sturdivant added 16, Barnes scored six, Turner and Powell tallied three points apiece while Ford added two.
Lee Hudson led the Trojans with 15 points. Parkers Chapel led 10-9 after the opening period before EPC rallied for a 24-14 halftime lead. The Warriors took a 37-22 advantage into the fourth quarter.