Quilts of Nell Ross featured at STFM
Friday, March 9, 2012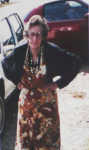 Last weekend, quilts were displayed in four cities for the Sunken Lands Quilt Festival. The quilts shown ranged from those made recently to quilts made from the 1930s and passed down through generations.
The Southern Tenant Farmers Museum featured an exhibit of quilts, aprons, gardening coats and toys made by the late Nell Ross.
Nell married Craig Ross in 1931. Before they started dating, Craig had jumped off a truck at Marked Tree to keep from marrying another woman. Together, Craig and Nell Ross sharecropped on property just outside of Tyronza and had 13 children, 10 of whom are still living.
Barbara Ross, who married Nell's youngest child, Robert, said of Nell, "She endured many hardships raising those children in hard economic times. Grandmother Ross, as we all called her, had the patience and perseverance of Job in the Bible.
"I would always love to hear her talk of her time growing up and raising all those children," Barbara continued. "She said there were so many mouths to feed and so many biscuits to make that she could never have time to do the shopping. She would have to make lists and send the lists with someone to get what the family needed."
Nell Ross attended Tyronza Baptist Church and was very dedicated to her church.
"She received a pin for attending Sunday School for 20-plus years and had saved the church bulletins for all those years," Barbara said.
Barbara admired Nell Ross, who, she said, "never said a bad word about anyone and was always uplifting her children, grandchildren and great-grandchildren in prayer. When all the children were grown, she dedicated her time to the Lord and prayer for her children."