Trumann City Council takes action on police, garbage
Friday, March 9, 2012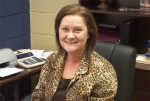 The Trumann City Council held a meeting Tuesday, March 6 in which council members voted 10-0 to support any disciplinary action made by Trumann Mayor Sheila Walters against officer Erik Willbanks. Willbanks was suspended on Feb. 28 for two weeks without pay in the wake of the investigation into Chief Tony Rusher's drug use. Willbanks had been interviewd by special investigator and former Arkansas State Police Special Agent Phil Carter and stated that he had witnessed Rusher take the prescription medicines from the evidence room.
In other business, the council in an on-going mission to establish a city-run trash service, voted to accept bids for both a garbage truck and residential garbage bins. The City of Trumann will enter into a lease agreement with RiverCity Hydraulics in Little Rock for both the truck and the bins. The truck will have a 24 month lease at $3,982.02 per month with the residential bins being placed on a five year lease-to-own program.
Additionally, the council approved Mayor Walters entering into a contract with Jonesboro attorney Jeannette Robertson for a maximum amount of $10,000 to pursue the legal issues between Delta Environmental and Trumann. "Our goal is to resolve all issues to make Trumann a cleaner place to live," Mayor Walters said Wednesday.