Longtime Marked Tree minister honored at retirement at 103
Friday, March 9, 2012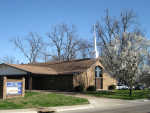 The afternoon of Sunday, March 4, marked the end of over 55 years of dedicated service to the St. John Missionary Baptist Church in Marked Tree as 103-year-old Dr. Grover C. Simpson, Sr. retired.
Accompanied by his wife, Ruth, a retired Marked Tree school teacher, Dr. Simpson was honored and revered by a standing-room-only crowd who came to hear expressions of rememberance of Dr. Simpson's service from several speakers.
The St. John Missionary Baptist Church and Union Grove Missionary Baptist Church in Gilmore (Crittenden County) Combined Choirs performed several selections in praise of Dr. Simpson's spritual leadership.
"We hope you will enjoy your well-deserved retirement and want you to know that you are forever in our hearts, thoughts and prayers," expressed members of the two church families. "May God continue to bless and keep you in His care."
In 1921, at age 13, Dr. Simpson joined the Pleasant Hill Missionary Baptist Church in Saulsberry, Tenn., his hometown. One of six children born to James and Hannah Simpson of Saulsberry, it was 19 years later, in 1940, he was called into the ministry -- and he has not stopped since.
Soon after preaching his first sermon at Lake Grove Missionary Baptist Church in Jericho (Crittenden County), Dr. Simpson fell in love with Beatrice Marie Cash and the couple wed in 1942. From this union four children were born: Gloria, Grover Jr., Frank (deceased) and Corrine.
Beatrice died in 1974, and in late 1975, Dr. Simpson wed Ruth Shelton-Blake.
Prior to Sunday's service, Dr. Simpson told his congregation, "I am ready to retire. I have fought a good fight, I have finished my course, I have kept the faith."