Virginia King shares testimony with kids of Youth Outreach
Friday, March 9, 2012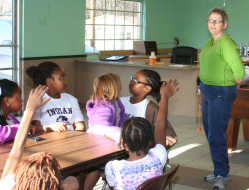 Youth Outreach Ministries in Marked Tree has been doing great since officially opening in January, board president Bill Craft said.
"We had 32 kids one day," Craft said. "Our attendance usually doesn't drop below 20. We're doing really good."
YOM offers a faith-based after-school program that provides tutors, recreation, non-denominational devotionals and hot meals to kids. The program is modeled after City Youth Ministries in Jonesboro and is offered free each Monday, Tuesday, Thursday and Friday.
Special guest last Friday was Virginia King, Career Pathways case manager for ASUN Marked Tree.
"I never would have dreamed at 12 years old that I would be in front of people giving my testimony," King said.
King said her father, who was 60 years old when she was born, died when she was 14. Her mother married five times, and King spent time in foster care. King said she did a lot of dumb things when she was younger before turning to God.
"If it hadn't been for God surrounding me, I wouldn't have made it," King said. She was the only one of five children to graduate high school, and she attended college as a single mom.
King said her favorite testimony is of a time when she was in a car wreck. She had just dropped her children off at school and gotten back on the highway when she was hit from behind.
"The only thing I remember is putting the car in Park," King said. "My seat was broken. A person opened the car door and asked if I was okay. He had solid white hair and blue eyes -- blue like the sky. He said, 'Everything will be okay.' Then I went into shock."
King said when she was rescued from her vehicle, she asked about the white-haired man and was told there wasn't one. "I had just encountered my angel," King said. "I had an angel that day."
King used the example of a butterfly and a cocoon to illustrate that everything that happens in life makes a person who they are.
"If you cut the membrane of the cocoon and pulled the butterfly out, it would not survive," King told the kids. "Instead of saying, 'Help me out of this,' ask God, 'Help me through this.' Don't ever give up on God, and don't ever give up on yourself."
King has three children, ages 28, 22 and 20, and three degrees, an Associate's, Bachelor's and Master's.
She said she was happy to give her testimony to the kids and praised Youth Outreach Ministries and its volunteers for their work.
"Youth Outreach Ministries is important," she said. "I used to run a youth program, and it takes a village."