Weiner gets visit from NFL star
Friday, March 9, 2012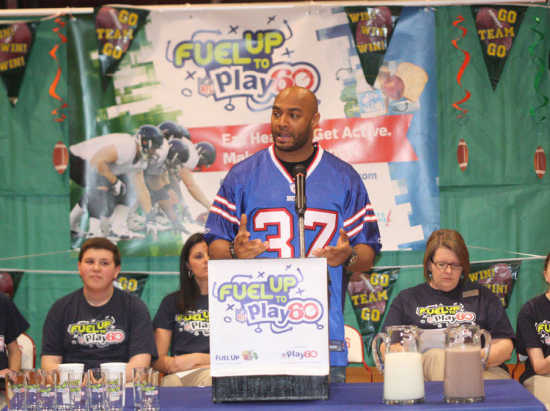 Buffalo Bills strong safety and former Arkansas Razorback standout George Wilson made a stop in Weiner on Monday as a reward for the Weiner School's participation in the NFL Fuel Up to Play 60 Back To School, Back To Football Challenge.
Wilson spoke to students in grades K-12 and the faculty in the school gymnasium.
Fuel Up to Play 60 is a program the NFL and National Dairy Council established to encourage kids to eat healthy and to be active for 60 minutes a day. For the National Dairy Council, the program is a direct response to dairy farmers' concerns that many U.S. children are overweight and undernourished.
Weiner has participated in the program for three years.
There are a series of four Fuel Up to Play 60 Challenges that youth can get involved in throughout the year. Each Challenge focuses on a different aspect of the program and provides the opportunity for students to collaborate with their peers to showcase what they have learned about "fueling up" with nutrient-rich foods and getting at least 60 minutes of physical activity every day.
"I am always impressed by the Challenge submissions sent in by students and schools across Arkansas," said Ashley Anderson, health and wellness program manager for the Dairy Council. "It is truly inspiring to see how these kids are making a difference in their health and at their schools. Faculty and students at Weiner High School should be proud of this accomplishment."
The Back to School, Back to Football Challenge encouraged students to show their team spirit and upload a video, photo or essay to demonstrate how they kicked off Fuel Up to Play 60 this year. The winning video featured Weiner students and staff sporting milk mustaches as they spread the word about good nutrition and physical activity throughout the school.
The video was shown to Monday's crowd.
"I'm proud of the students for their hard work and determination in completing this Challenge," said Patricia Carroll, Weiner family and consumer sciences teacher. "Fuel Up to Play 60 has inspired our kids to get excited about health and wellness. We are thrilled to have an opportunity to visit with an NFL player like George about fitness."
Fuel Up to Play 60 is currently in more than 900 Arkansas Schools. Those who want to learn more about the Fuel Up to Play 60 movement may visit www.FuelUpToPlay60.com.
Wilson has been associated with the program for a year. When asked about the program, he offered these words, "The program empowers the kids to make the changes necessary, and they have ownership of the program."
The drama department performed a skit for the audience before Wilson spoke. Wilson talked about the importance of healthy eating and being active every day. He then took questions from the audience.
Asked what it felt like getting hit, he answered "If I'm at full speed, it doesn't really hurt. If it's cold, it hurts, and if I'm hit while only going half speed, it hurts then too."
Wilson ended the program by signing the pledge board to eat better and exercise daily before enjoying a glass of milk with a group of those in attendance.
"Fans remember the past and talk about old games," Wilson said when asked about being back in the state of Arkansas. "This is where I became the man I am today; I want to give back to the state that gave me so much."
Wilson added, "I spend a lot of my offseason working in communities and telling about childhood obesity. I tell the kids to follow their dreams."
Wilson stood at the exit of the gym to shake hands, give high fives and sign items for the kids.
"I'll stay here as long it takes to meet and sign items for everyone," he said.