Lady 'Cats roll over Armorel
Thursday, March 15, 2012
Trumann hosted Armorel this past Monday in high school girls' softball action. The Lady Wildcats fell behind early but clawed their way back and posted a 10-4 win.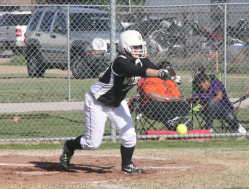 Three errors in the top half of the first helped the visitors jump out to a 3-0 lead. Trumann answered with a run in the bottom half as Sarah Halfacre led off with a bunt single. Halfacre used a stolen base and passed ball to get to third. Hannah Walters plated Halfacre with an RBI groundout to make the score 3-1 after the first inning.
Trumann tied the game up in their half of the third inning. Sammie Jo Williams started the inning with a single. Walters reached on a fielder's choice, with courtesy runner Haven Taylor being forced out at second base, before stealing a base to get in scoring position. Macy Hicks knocked in Walters with a double and Hicks later scored on an error to tie the game up after three innings of play.
The Lady Wildcats grabbed the lead for good in the bottom of the fourth. Halfacre was hit by a pitch with two outs in the inning. Williams reached first on a fielder's choice with Halfacre advancing to second. Halfacre reached third with a stolen base and scored on an infield single from Walters. Haven Taylor, courtesty running for Williams, scored later on an error setting the score at 5-3 after 4.
Armorel cut the lead to 5-4 after their half of the sixth but the Lady Wildcats scored five runs in the bottom half setting the final score. Morgan Taylor and Williams both reach base on singles to start the bottom of the sixth. Williams reaches on a fielder's choice with Halfacre being forced out at second. Walters reaches base after taking hard hit in the back on a wild pitch to load the bases. Hicks worked a walk to score Morgan Taylor. Kelly Guthrie reaches on an error scoring Haven Taylor to put Trumann up 7-4. Julia Jones knocks in Walters with a sacrifice fly out before Hicks and Guthrie score on passed balls to set the final score.
Walters pitched a complete game giving up four runs, one earned and striking out eight.
Halfacre led Trumann offensively with two hits, two runs scored and two stolen bases. Hicks added two hits, two runs scored and two RBIs. Walters had a hit, stolen base and scored twice, Williams had a hit, Morgan Taylor had a hit and run scored, Jones had an RBI, Haven Taylor scored twice and Guthrie scored a run.