Lady Warriors fall short in bid for state crown
Thursday, March 15, 2012
Janeka Watkins poured in 34 points, including 14 in the final quarter, propelling England to a come from behind 62-58 victory over East Poinsett County, giving the Lady Lions their second straight 2A State Championship Thursday afternoon at Summit Arena in Hot Springs.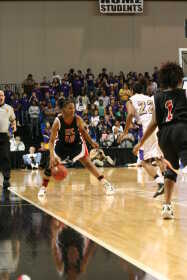 The Lady Warriors led throughout the first three periods before Watkins and twin sister Jameka led England's fourth quarter rally that snatched victory from the jaws of EPC. The Lady Warriors held a 12-10 lead after the opening period and took a 27-25 edge into the dressing room at the half. EPC held a slim 38-34 advantage after three quarters of play.
"England controlled the whole fourth quarter," said EPC Coach Bobby Lewallen. "They had a lot of poise about their offense and they knew who to get the ball to. We tried to stop Janeka Watkins, but she was unstoppable out there. We tried to do the best we could to stay in front of her, but we couldn't do anything with her. She is by far the best player we have faced all season," said Lewallen.
The Lady Warriors had plenty of chances to open up a comfortable lead, but saw several shots from close range refuse to fall. EPC also struggled from the foul line, connecting on just 17-33 for the day, a paltry 51%. "I told the girls at halftime we needed to hit our free throws, especially in the third quarter, because I knew things would get tight in the fourth period and the pressure would be on," said Lewallen.
EPC held a commanding 50-28 rebounding advantage, but struggled from the field, hitting just 34% of their shots, including a dismal three for 14 performance from beyond the arc. Meanwhile, the Lady Lions also struggled from the field, hitting only 37%, but did connect on seven of 19 three pointers. England finished just 21-35 from the free throw line but connected on 15-21 foul shots in the crucial fourth quarter to seal the victory.
England began its comeback in the fourth quarter on a lay-up by Janeka Watkins to trim the EPC lead to two at the 7:41 mark. After a free throw by Jameka Watkins cut the EPC lead to one, a steal and a foul sent Janeka Watkins to the line, where the University of Central Arkansas signee sank a pair of free throws, giving England a 39-38 lead with 7:18 left. EPC went back on top, 40-39, with a Brittany Ball lay-in at the 6:52 mark. The two teams traded leads until a Janeka Watkins free throw tied the game, 42-42 with 5:41 to go. Janeka Watkins came up with a steal and drove the length of the floor to give the Lady Lions a 44-42 edge with 5:23 left. England stretched its lead to 48-43 on back to back buckets by the Watkins twins after a pair of EPC turnovers.
EPC roared back, scoring the game's next five points on a three point play by Brittany Ball and pair of Alicia Ross free throws, tying the game at 48-48 with 3:06 left. England went back on top, this time for good, on a driving bucket by Janeka Watkins at the 2:52 mark. After an EPC miss, Aria Dunbar stuck a dagger in the hearts of Lady Warrior fans, draining a three pointer from the right wing, putting the Lady Lions up 53-48 with 2:00 remaining. Teria Young quickly answered for EPC , cutting the England lead to three before Janeka Watkins sank a pair of free throws, making the score 55-50 with 1:06 left.
Ross answered with a basket and a free throw, completing a three point play to pull EPC to within 55-53 with 52 seconds left in the game. Jameka Watkins canned four consecutive foul shots, while sister Janeka hit one of two, giving England its biggest lead of the night, 60-54 with 37 seconds to go.
The Lady Warriors made one last charge on back to back buckets by Terrika Madden and Young, the last coming with seven seconds to go, but a pair of Jameka Watkins free throws with five seconds left sealed the title for England.
The two teams were tied on six different occasions and the game saw 13 lead changes.
Jameka Watkins joined her sister in double figures, scoring 14 points for England, while Dunbar added 11 more. Jasmine Taylor pulled down 12 rebounds for the Lady Lions.
Both Ross and Brittany Ball recorded double-doubles for EPC. Ross scored 18 points and pulled down 15 rebounds, including 10 on the offensive boards, while Ball had 13 points and 11 boards. Young scored 12 points, Madden netted nine, Whitney Ball scored four while Synteria Ward added two points.
"I think our nerves played a little bit of a role in this game," said Lewallen. "There were some shots that we were passing up that we normally take. We were catching and looking and we wouldn't take that little jump shot, which is what we've done all year. That's just nerves of being in the finals. We have nothing to be ashamed of. This is our third final in the eight years I've been here. It's a great feeling to know there are 62 other teams who would like to trade places with you. The girls are upset about not winning, but it's an honor to be here, and it took a lot of work to get here. I just wish we could have made a couple more shots," concluded Lewallen.