Back-to-back state titles for Warriors
Thursday, March 15, 2012
East Poinsett County built a 15 point fourth quarter lead but had to fend off a furious rally by Junction City in the final 4:00 before hanging on for a 60-54 victory in the finals of the 2A State Championship game Thursday afternoon at Summit Arena in Hot Springs.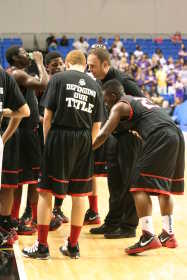 The victory gave the Warriors their second consecutive state championship and the school's third overall in the past seven years. Jammar Sturdivant, who was named the 2A State Tournament Most Valuable Player, led the Warriors with 22 points and 10 rebounds while senior A. J. Turner scored 14 points and grabbed a game high 15 boards.
EPC Coach Josh Hill applauded his team's achievement in picking up back to back state titles. "This is a great group of kids," said Hill. "This senior class went 94-9 over the last three years, so they expect to win every time they step on the court. They have had three straight 30 win seasons and they don't back down from anybody," added Hill.
EPC led 54-39 after a goal tending call against the Dragons' Jamario Bell on a shot by Jori Ford with 4:49 left in the game. The Warriors led 58-44 after a Sturdivant lay-up at the 3:12 mark before Junction City's Dorian Evans drove for a bucket to cut the EPC lead to 58-46 moments later. Dragon Coach Kendall Hutcheson called for a full court press and his troops responded with three consecutive steals, all resulting in points, which trimmed the Warrior lead to 58-52 with 1:42 left in the game.
Both teams missed on their next possession before a Shaquille Hunter steal led to a foul by the Warriors' Wendell Pritchett, sending Chris Williams to the line with 35 seconds to go. Williams sank both free throws, slicing the Warrior lead to 58-54, which brought anxious looks from EPC fans in attendance. But a Ford lay-up off an assist by Turner at the 19 second mark pushed the Warrior lead to 60-54, and when Hunter misfired on a three pointer, EPC's Darius Barnes snatched the rebound and ran out the clock, sending Warrior faithful into ecstasy.
"Everybody expected us to win last season," said Hill. "We didn't have a game in the state tournament that was any closer than 16 points. This year the bull's eye was on our back. Last year I was relieved after we won. This win I am going to enjoy. This is my favorite group of seniors. I love these guys. They play hard and they do exactly what I ask them to do," added Hill.
Sturdivant said the Warriors were ready to go on Thursday. "We were ready to play, and we came out hard and got the win," said 6'0" junior guard.
EPC built a 15-7 lead in the first quarter before the Dragons went on a 6-0 run to pull within 15-13 after the break. The Dragons tied the game on a Williams bucket to start the second quarter before the Warriors went on a 9-2 run of their own, capped off by a Sturdivant basket at the 3:34 mark. EPC closed the half leading 31-24.
The Warriors maintained their seven point lead in the third period as Sturdivant scored nine points in the quarter, giving EPC a 46-39 advantage heading into the final frame. The Warriors began the fourth quarter with an 8-0 run to pull ahead by 15 points before watching the Dragons fight back.
Barnes also hit double digits for EPC scoring 10 points. Pritchett scored seven, Ford tallied six while Byron Scales chipped in one point. EPC held a commanding 35-22 advantage on the boards. The Warriors shot 47% from the field, including two for 15 from three point range. EPC hit two of six free throw attempts.
Williams led Junction City with 20 points while Evans added 18 more. The Dragons hit 47% of their shots while making three of 14 from beyond the arc. Junction City finished 11-15 from the foul line.
Turner, a University of Arkansas football signee, talked about EPC's second consecutive state title. "It feels good," said Turner. "Last year everyone said we had Ky (Madden), so we were supposed to win. But we got back and worked hard, just like last year. It feels good to get back," said Turner.
Turner said he was interested in getting more rings. "I want more, so I've got to go to work," said Turner. "Hopefully when I am a Razorback we can win a national championship," added Turner.
Junction City's offensive performance was better than any team the Warriors have faced in the past two state tournaments. "That's the first 50 point game we have given up in the last two years, so I guess I have something to gripe about," joked Hill.
"It was fun winning the title last year, but this year feels even better," concluded Hill.