Willey speaks to Alzheimer's support group
Friday, March 16, 2012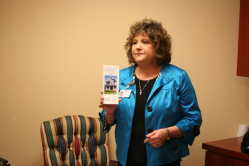 Linda Willey started her career as a CNA (Certified Nursing Assistant). Now, as coordinator for Schmieding Home Caregiver Training in Jonesboro, Willey gets the chance to teach the skills she's developed. She spoke recently to the Alzheimer's Support Group at Three Rivers Healthcare and Rehabilitation in Marked Tree.
"This has been a thrill to come full circle to teach integrity, skills, and sensitivity," Willey told the group.
The Schmieding Home Caregiver Training Program was developed by Lawrence H. Schmieding and is under the umbrella of the UAMS and the Center on Aging. Willey said when Schmieding's brother fell ill with dementia, Lawrence looked to see if there were any education programs for caregivers and found there were not. Schmieding recognized a need for such a program after struggling to care for his brother and put together the team that wrote the curriculum for the program.
The original site of the Schmieding Center was established in Springdale, Ark., in 1999. In 2008, the Donald W. Reynolds Foundation donated money to replicate the program throughout Arkansas. There currently are four sites: Jonesboro, Pine Bluff, West Memphis and Texarkana. Willey said there is also a grant coming up for four more sites in Little Rock, Fort Smith, El Dorado, and Hot Springs.
Willey said the goal of the school is "for every family member who needs a caregiver to have one." She said they teach caregiving skills, sensitivity and standards and went over the various classes the center provides to train CNAs and the free workshops offered for people who want to learn caregiver skills so they may better care for a loved one.