Melinda Odom addresses MT Rotary
Friday, March 16, 2012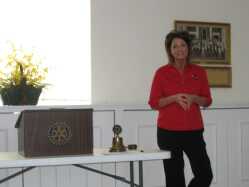 Melinda Odom, instructor of cosmetology at Arkansas State University-Newport's Marked Tree campus, spoke Wednesday, March 7, to the Marked Tree Rotary Club. Odom, a veteran of cosmetology instruction, told of the program's success and how she achieves that success.
"We want program completers" Odom said. "You've got to teach them the right way to do it, not just how to get it done."
Odom was enthusiastic in explaining the program and its different elements.
"After the first six years, 90 percent of the people (students) are still doing it (cosmetology) professionally," she said. Hinting further at the flourishing program's favorable position as a leader in regional cosmetology instruction, Odom added, "We win a state competition basically every year."
Odom has been teaching students in cosmetology since she obtained her own cosmetology license in 1982. She stressed that a key component to the program's enduring success is that it teaches both theory and practical classes to give students as much perspective as possible.
The program is completed in approximately one-and-a-half years and is one of the most affordable programs in the area with an average tuition cost of $5,000, she said.