Ritter Communications sponsors child's wish to visit Disney World
Friday, March 16, 2012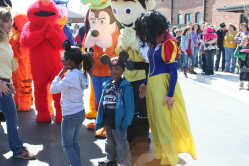 Six-year-old Jacques Ballard and his family went to Ritter Communications in Marked Tree last Friday thinking they were there to promote the Make-A-Wish Foundation of the Mid-South. Instead, the family, from West Memphis, found they were the center of the event.
When they arrived, two firetrucks pulled away to reveal a crowd that included several Disney characters, who announced that Jacques' wish was being granted and his family was going to Disney World for spring break.
Jacques and his older sister, Jacquarria, got to play around in one of the Marked Tree firetrucks before entering Ritter Communications with other children of the area. They found the building had been transformed into a Disney carnival, complete with games such as a remote-controlled car race track, mini-golf, basketball, pin-the-ears-on-Mickey, and dancing Disney characters in full costume.
Jacques and his sister also danced and got their pictures taken in front of Cinderella's castle -- not the real one, but one generated through a green screen set-up that let them see themselves acting out on a video screen that put them in front of the castle.
Jacques also was told he will get to see The Lion King Live in Disney World because he had mentioned a love for the Lion King during his interview with Make-A-Wish.
When asked how he felt about the whole thing, Jacques said, "I'm the king!"
His mother, Candice, said it meant a lot to her and that even she had been surprised and excited when she found out they were going to Disney World.
After the kids played all the games, they settled down for pizza and cake.
A year ago, Ritter Communications and Optus held a Bowling for Wishes Tournament, the proceeds of which went to fund two wishes for Make-a-Wish. The Make-a-Wish Foundation of the Mid-South grants wishes for children with life-threatening medical conditions between the ages of 2 1/2 and 18 years of age.