State spelling bee winner excited to go to D.C.
Friday, March 16, 2012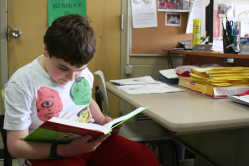 Sixth-grader Trevor Paulsen of Harrisburg is excited about going to Washington D.C. to participate in the Scripps National Spelling Bee after winning the state spelling in Little Rock.
"I feel great," Paulsen said. "It's definitely not an experience you get to enjoy every day."
One of the things that has helped Paulsen win so far is not stressing. To keep from feeling the stress of competition, Paulsen said that "instead of of thinking of the consequences of losing, I tried thinking of the good things that come with losing, like more free time and less stress."
He went into the state competition focused more on not getting knocked out in the early rounds than winning the whole thing.
"At first, I was not expecting to win," he said. "I just wanted to see how far I could get. I tried to de-stress myself. Around the third round, my competitiveness came out. I don't know what I was expecting, but it wasn't victory. That was the furthest thing from my mind."
In addition to trying not to stress, Paulsen's preparation for the various spelling bees he's participated in involve study sessions with his parents -- usually his dad -- in which he has to spell a word his dad asks him, as well as prayer. Paulsen also studies the spelling rules for words in multiple languages, which has helped him on numerous occasions.
"I study the rules," he said. "One example is that the Latin language doesn't have many K's -- stuff like that."
Paulsen said the hardest word he had to spell was "wadel," a German word, though he noted that "sometimes easy words are hard because you're expecting them to be difficult."
An example, he said, is "keest."
"I did know it was Dutch, which is closely related to German," Paulsen said.
Paulsen's favorite subject at school is history, though he has trouble narrowing down his favorite era of study.
"All eras of history have their interesting points," he said. "Maybe my favorite is the Renaissance because there is a lot of interesting stuff happening in a relatively short time period."
History also relates to his favorite extracurricular activity, playing Civilization V, a turn-based computer game in which the player builds an empire beginning in the stone age and advancing to the space age.
Trevor aspires to be a math professor.
This is his second year to participate in the spelling bee.