Miscues hurt 'Cats in loss to Pocahontas
Thursday, March 22, 2012
Trumann travelled to Pocahontas for a 4A-3 conference baseball game this past Tuesday. The Wildcats led early but a couple costly errors by Trumann sent the Redskins to a 5-3 win.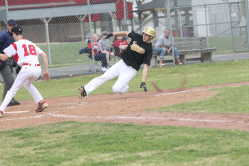 After a scoreless first inning, Trumann got on the board with a run in the top of the second inning. Nate Maxwell singled to start the inning before advancing to second on a ground out by Dylan Dulaney. Jay Ryan Woods singled to put runners at the corners for Trumann. Maxwell scored on a passed ball by the Redskin catcher to give Trumann a 1-0 lead. Pocahontas responded by sending nine batters to the plate in their half of inning and scoring four runs to take a 4-1 lead after two innings of play.
The Redskins added a run in the bottom of the third as two Trumann errors put the lead-off batter at third where he scored on a passed ball to make the score 5-1.
Cameron Jones singled in the top of the fifth before stealing second base and advancing to third on a passed ball. Jones scored on a RBI ground out by Dillin Vincent to put the score at 5-2 Pocahontas.
Trumann added another run in the top half of the sixth inning. Dulaney drew a two out walk and Woods was hit by a pitch to put runners on first and second for the Wildcats. Justin Liles delivered a RBI single scoring Dulaney to cut the lead to 5-3.
Jones led off the seventh by ripping a shot down the right field line that looked as if it would be for extra bases only to see the right fielder make a nice running grab to rob Jones of a base hit. Zach Vinson had a two out single only to be stranded at first to end the game.
Maxwell led Trumann offensively with two hits, a stolen base and a run scored. Jones had a hit, stolen base and run scored. Woods, Liles and Vinson all had a hit with Liles and Vincet both driving in a run and Dulaney scoring a run.
Maxwell took the loss for Trumann going all six innings giving up five runs on four hits while walking three and striking out five.