Rash updates MT Rotary on levees
Friday, March 23, 2012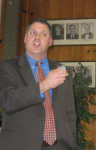 Rob Rash, chief executive officer and chief engineer of the St. Francis Levee District of Arkansas, spoke Wednesday, March 14, at the Marked Tree Rotary meeting.
Rash gave a brief overview of the current standing of the levee district, specifically since the floods of last year.
"I never want to see that (2011 floods) again," Rash said.
He outlined the levee district's $2,900,000 annual budget that protects seven Arkansas counties, including Poinsett, and some of Southeast Missouri.
Rash, who graduated from the University of Memphis and began his career with Sorrell Consulting Engineers in West Memphis, told the group, "I'm not opposed to people buying flood insurance. I am opposed to the government making people buy it."
Rash said he wanted to ensure that those in attendance were comfortable and knowledgeable with what the St. Francis Levee District does, how it functions and how these processes protect area residents.
According to Rash:
* over $110 billion in damage was prevented in 2011.
* 4.1 million people were protected.
* over 35,000 square miles of protected area is within the levee district.
* $13.9 billion in the levee district has been invested.
Rash discussed important key components to the levee district, one of which is the nation's largest stormwater pumping station, located near Helena at the confluence of the Mississippi and St. Francis Rivers.
Without the pumping station, Rash said, "It would take 10 days for floodwaters to take over all the way to Crowley's Ridge."
The St. Francis Levee District of Arkansas owns, operates and maintains 160 miles of Mississippi River mainline levee and 75 miles of St. Francis River tributary levees.