Teague named president-elect at Marked Tree Chamber Banquet
Friday, March 23, 2012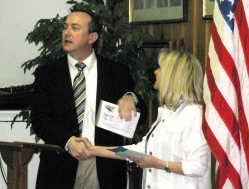 The Marked Tree Chamber of Commerce held its annual banquet Tuesday evening, March 20. In a packed room at the United Methodist Church, representitives from the Poinsett County Historical Society gave tips to preserving family photos and urged those in attendance to write down their family histories for submission in the Society's forthcoming volume, "Poinsett County, Arkansas: History & Families, Vol II."
Jeff Bookout, vice-chancellor and current president of the Marked Tree Chamber of Commerce, introduced to the audience the president-elect for the 2012-2013 term, Sandy Teague.
"Jeff has done an amazing job with this Chamber, and I think we all owe him a huge debt," Teague said.
Bookout also unveiled the new Marked Tree Chamber of Commerce website, designed by Chris Doyle with the aide of his wife, Kellye, both of Jonesboro.
"I had wanted to either redesign or do away with the current Marked Tree (Chamber) site for some time," Bookout said. "I think this new layout with added content will really help to enhance our growing community."
The banquet also included a silent auction with portions of the evening's proceeds going to God's New Life Center in Marked Tree.
"They really do some wonderful things over there and for the community," Teague said.