Marked Tree's Winning Woman Coach
Friday, March 23, 2012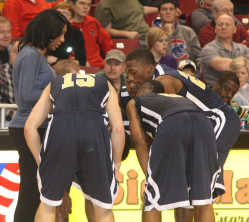 As we celebrate Women's History Month, this reporter had the chance to talk with Coach Barbara Wilburn of Marked Tree High School. Wilburn is the head coach of the boys basketball teams, a position most won't find filled by a female.
Wilburn was born in Forrest City and grew up with five sisters and two brothers. She got her drive from a very competitive family. She played sports from peewee through four years with the Arkansas State Lady Indians.
Wilburn always knew she wanted to be a coach -- and to coach boys, in her own words. After college she got her first coaching job at Marked Tree, and that has where she has remained.
That first coaching job was as an assistant on the girls team. A few years into her coaching career, Wilburn had the chance to move to assistant on the boys' team and jumped at the opportunity. She was promoted to the head coaching job when the previous coach was reassigned duties at the school.
Wilburn said the boys had no problems when she became the head coach since she had coached most of them in the peewee program. She felt having coached them earlier and the fact that they knew she knew the game helped in the transition.
"When they called the boys in and told them of the change, they were ecstatic," she said with a smile.
Asked if she met any opposition that first year as head coach, Wilburn replied, "No, not really. I got a lot of stares."
The stares didn't last long, however, since she took her team to the semi-finals of the state tournament. Wilburn had her team poised for a state title the following season. The Indians topped Turrell, 54-49, for the 2001 Class 2A State Championship.
Does she still get stares after all these years?
"In our surrounding area I don't," she said, "but occasionally when we go to the regional or state tournament, people will ask if I'm really the head coach of a boys team.
"I have had so many people come up to me after the games and comment on the good job I'm doing. It's not about me when they comment about how hard the kids play and the manners they show. That is what makes me proudest."
In 2010, Wilburn was inducted into the Forrest City Athletic Hall of Fame.