Marked Tree girls basketball team won 126 games in a row in 1940s
Friday, March 23, 2012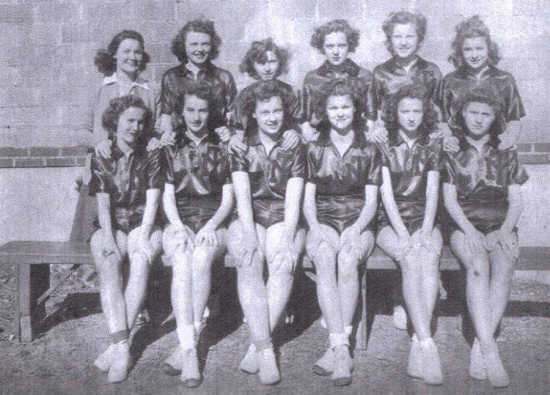 Claudine Posey was 14 years old when she joined the Marked Tree Indians girls basketball team in 1944. At the time, she had no idea she would be part of a team that would hit a four-year-long winning streak.
During the time she played with the team, from 1944-1948, they won a total of 126 games in a row.
"I was joyful," Posey said. "We played hard and had a good coach, Kohn Bray. The gym was always full. There were people who came and sat in the same seat every game. They didn't have anyone playing, but they followed us everywhere we went."
Posey said the team knew they were doing great, but it didn't sink in that something special was going on until the third year.
"We just had a good time," she said. "We got to go to a lot of places. We went to Southaven and played all over Arkansas. And of course, we enjoyed winning."
Sportsmanship was very important to the team. Posey laughed as she talked about how rough the sport could get.
"We had rules to go by, and we went by them. Back then, you were taught sportsmanship. One time, I was taking the ball down the side, and a girl on the other team scratched my arm. I wanted to hit her with the basketball, but I didn't. My arm was bleeding, but the officials never did anything to her. I still have the scar to this day," Posey said.
Posey remembers the 1948 game against the Paragould Bulldogs that killed their streak as a tense one.
"That game was stressful," she said. "It was a tight game all the way through. We had to go into two overtimes and lost by two points. It was a sad game. We all cried when we got to the dressing room.
"Paragould ended our streak. That's why we don't like Paragould," Posey said with a laugh.
The team also produced a star in Posey's sister, Virginia Posey, who played with the Famous Redheads, a barnstorming women's basketball team that traveled the country playing men's teams by men's rules. They entertained the crowd with fancy ball handling and shots, much like the Harlem Globetrotters, and colored their hair if they were not natural redheads. Along with the All-American Redheads, they were one of the first professional women's basketball teams.