Lisa Gean is second female deputy in history of Poinsett County Sheriff's Dept.
Friday, March 23, 2012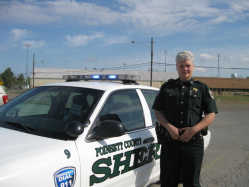 Lisa Gean starts her day early. On duty at 5 a.m. for a 12-hour shift which covers 800 square miles, Gean is Poinsett County's second female deputy in known history.
Gean is straight-forward and unapologetic. She cites her desire to enter into law enforcement as a "natural transition" after leaving the United States Marine Corps in 1985.
Stationed last at El Toro in California, Gean recalled, "I grew up with all boy cousins, and so I wanted to go into the toughest and most challenging job there was -- so I chose the Corps."
Gean acknowledges that many of the attributes she learned in the Marine Corps aide her daily as a deputy for Poinsett County.
"I would say discipline, respect and the interaction with people on a daily basis are things that I really can take away from the Marine Corps," she said.
Gean recognizes that being a female sheriff's deputy may seem unorthodox to some, as these institutions often tend to be male-oriented. Yet she takes it all in stride.
"Like with anything, you have to prove yourself -- man or woman," Gean said. "I have a degree in law enforcement and previous experience in law enforcement as a reserve officer and I have nursing experience as a paramedic. Plus, after I left the Marine Corps, I went to work for the (sheriff's) department as a dispatcher, so I have been around here awhile."
A native of Marked Tree, Gean quickly deferred to her parents when asked who her role models are.
"They are hard workers, and I've always tried to live to their standards," she said.
Gean also feels that law enforcement is a natural progression from motherhood. "You are taking care of people and ensuring their safety," she said.
Gean's responsibilities within the department are voluminous and range from serving as a baliff to working accidents to child custody cases as well as Gean's role as a civil process server.
As a veteran of the Poinsett County Sheriff's Department, Gean is responsible for several training courses and hopes to transition into domestic abuse training and seminars.
"My best day on the job is when I can help someone -- when I can see someone's case completely adjudicated and go through the system so that their problem, whatever it is, is fixed. My worst day is just the opposite of that -- when I am unable to help. It is one out of a hundred cases which keeps you going in this."
Asked what advice she would give to new recruits or those interested in pursuing a career in law enforcement, Gean was direct and quick with her answer.
"You have to take it one day at a time. You can never take anything personally and remember that nothing is ever routine."