Cops for Kids Egg Hunt is Saturday
Thursday, March 29, 2012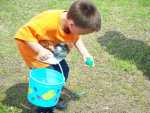 The Cops for Kids Easter egg hunt will be this Saturday, March 31, from 10am to noon at Cedar Park.
The hunt will be at noon with drawings for a girls bike and a boys bike immediately afterward. There will be a bounce house and a slide.
The Easter Bunny will also be there, and there will be a hay ride with the Easter Bunny. Hot dogs, chips, and drinks will be served.