Lady Wildcats take two in twinbill with Gosnell
Thursday, March 29, 2012
Trumann took two wins from Gosnell this past Tuesday in 4A-3 high school girls' softball action. Trumann shut out Gosnell 12-0 in the opener and won 5-2 in the second game. Hannah Walters got the win in both games.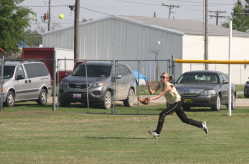 The Lady Wildcats sent 16 batters to the plate in the bottom of the first inning with 11 of those batters scoring runs.
Sarah Halfacre was hit by a pitch to start the bottom of the first inning. Sammie Jo Williams doubled to score Halfacre. Walters scored pinch runner Haven Taylor with an RBI single. Macy Hicks singled and stole second to put runners on second and third. Kelly Guthrie drew a walk to load the bases. Julia Jones walked to score pinch runner Neely Blagg. Megan McGowan laid down a bunt single to score Hicks. Morgan Taylor walked to score Guthrie before Halfacre cleared the bases with a three-run double. Williams added an RBI single to score Halfacre. Haven Taylor scored on a base hit by Hicks. Hicks scored on a passed ball to make it 11-0.
Trumann added its final run in the bottom of the second. McGowan singled to start the inning and moved to third on a base hit by Williams. McGowan scored on an error to make it 12-0.
Walters pitched all five innings giving up four hits, walking one and striking out three.
Williams had three hits and two RBIs, Hicks two hits and two runs scored, McGowan two hits, two runs scored and a RBI, Halfacre drove in three runs and scored two times and Haven Taylor scored twice for the Lady Wildcats.
In the second game, Hicks had three hits and Walters collected two hits. Jones drove in two runs with a double for the Lady 'Cats.
Walters allowed two runs on five hits while recording four strikeouts in five innings of work.