Indians claim Classic with win over 'Cats
Thursday, March 29, 2012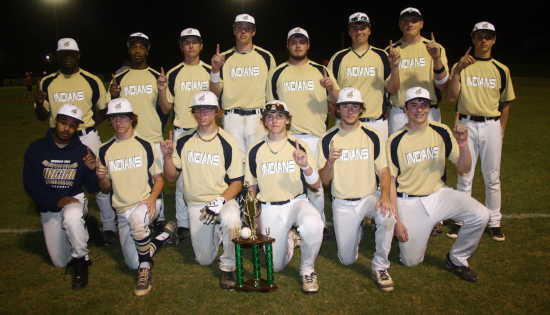 Marked Tree and Trumann played in the championship game of the Extra Inning Classic 1A-4A division this past Saturday at Westside. Marked Tree came out on top with an 11-6 win to claim the title.
Marked Tree (11-5) got to the finals by beating Salem in their opening game 7-4. Gunner Pitts slammed a three-run home run in the top of the seventh to break a 4-4 tie. Jagger McCrary earned the win for the Indians. The Indians downed McCrory 7-6 before blanking Rivercrest 10-0 to reach the finals. Against Rivercrest, Bryant Anderson hit two homeruns and had six RBIs to lead the Indians offensively. Brody McCrary picked up the win for Marked Tree.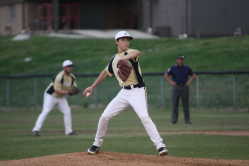 Trumann opened the tournament with a 6-4 win over Newport. Jay Ryan Woods was the winning pitcher for Trumann as Nate Maxwell had two RBIs to lead Trumann at the plate. The Wildcats beat EPC 12-7 in their first game Friday. Dillin Vincent knocked in three runs with two hits for Trumann. Zach Vinson got the win for the Wildcats. Caleb Harston took the loss for EPC. Aaron Scales and Zach Newson each had a hit and RBI for EPC. Trumann edged Harding Academy 4-2 to reach the championship game Saturday evening. Maxwell earned the win with Woods getting a save for Trumann. Michael Criss belted a solo homer for Trumann as Cameron Jones and A.J. Winningham had an RBI each.
In the championship game, Marked Tree jumped out to an early 2-0 lead. Taylor Wages opened the game with a double before advancing to third on a wild pitch. Pitts plated Wages with a ground out before Anderson belted a solo homerun to give the Indians a 2-0 lead.
Dylan Hunt doubled to open the second inning. He would advance to third on a passed ball before scoring on Jaden Bell's sacrifice fly out for a 3-0 lead.
Pitts walked to lead off the third inning for Marked Tree. Pitts stole second base and scored when Anderson reached on a throwing error. Anderson took third on a wild pitch and scored on a Jagger McCrary ground out to put the Indians up 5-0 after 2 ½ innings of play.
Jones drew a two-out walk in the bottom of the third for Trumann. Jones stole second base and eventually scored on a passed ball to put Trumann on the board. The score after three innings is 5-1 Marked Tree.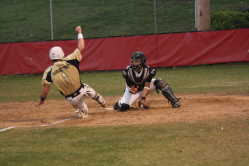 The Indians scored four runs in the top of the sixth to take a 9-1 lead. Brody McCrary drew a walk before Wages reached on an error. Pitts scored them both with a single. Pitts swiped second base before Anderson worked a base on balls. Pitts and Anderson both scored in the inning on wild pitches. The Wildcats didn't go quietly as they scored five times in the bottom of inning to cut the lead to 9-6. Jones walked to start things off before advancing to third on a wild throw on a pick-off attempt. Vincent's RBI single scored Jones. Justin Liles reached on an error and Maxwell walked to load the bases. Vinson scored Vincent with a RBI single before Criss plated Liles and Maxwell with a single. Taylor Wilson had an RBI sacrifice fly scoring Vinson.
Hunt doubled to open the top of the seventh inning. Bell walked and was replaced by pinch runner Bubba Phillips. The runners advanced a base on a passed ball. Wages scored both runners with a two-out single to push the Marked Tree lead to 11-6. Trumann was retired in order to end the game.
Wages picked up the win for Marked Tree going five innings, giving up six runs on three hits while walking five with six strikeouts. A.J. Winningham took the loss for Trumann.
Offensively Marked Tree got two hits each from Wages, Pitts and Anderson. Pitts drove in three and Wages plated two. Anderson scored three times. Trumann got hits by Vincent, Vinson and Criss. Criss had two RBI with Vincent, Vinson and Wilson each recording an RBI.