Southern Tenant Farmers Museum to host upcoming art shows
Friday, March 30, 2012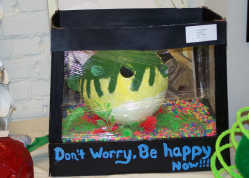 The Southern Tenant Farmers Museum in Tyronza will host the East Poinsett County Junior/Senior High Art Show April 2-27. The show will feature paintings, drawings, wire art and pottery from Melinda Burcham's art students. A reception honoring the artists will be held from 5 to 7 p.m. Monday, April 2. Everyone is invited.
In May, the Southern Tenant Farmers Museum and the Poinsett County Historical Society will host a Poinsett County Art Project, funded in part by a REACH grant through the Arkansas Humanities Council.
All students in grades 4-12 who attend schools in Poinsett County, as well as home-schooled children, are encouraged to participate. All entries must be original works created by individual students without help from others. The subject of the artwork is historic buildings of Poinsett County. The historic building must be at least 50 years old. Art submissions must be accompanied by a 100-word paragraph describing the building.
The name, location and date of the building must be noted on the art submission. All artwork must be 8 1/2" x 11". Matting will be provided for finalists chosen for the exhibit.
Artwork must be completed and ready for pickup at the school by April 20. Home-schooled students may drop off their art work submissions by April 20 at the Southern Tenant Farmers Museum at 117 South Main Street in Tyronza.
There will be 30 finalists from each school chosen -- 10 finalists from each grade bracket. From each grade bracket, there will be first, second and third place winners and two honorable mentions. Trophies and ribbons will be given to the winners and honorable mentions.
Winning artists, as well as several of the finalists, may have their artwork published in the new Poinsett County History Book and the work will be exhibited at the Southern Tenant Farmers Museum.
Awards will be presented at a reception at 1 p.m. Saturday, May 19. A reception will follow and refreshments will be served. The public is invited.
The Southern Tenant Farmers Museum is an Arkansas State University Heritage Site. For further information on either art show, contact Linda Hinton, assistant director, at (870) 487-2909 or email stfm@ritternet.com.