Nichols discusses scholarship fund with MT Rotary
Friday, March 30, 2012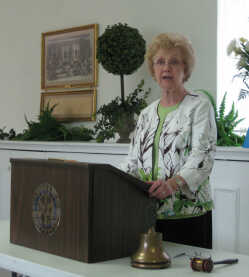 Gayle Nichols of the Poinsett County Single Parent Scholarship Fund spoke Wednesday, March 21, to the Marked Tree Rotary Club.
According to Nichols, the Single Parent Scholarship Fund was founded in 1984 in Northwest Arkansas.
"I have developed a passion for it," Nichols said. "Education is the only way you can break the poverty cycle."
Nichols explained that for every dollar raised by Poinsett County for the scholarship fund, the Arkansas Single Parent Scholarship Fund matches 160 percent.
"We're not choosy how we raise money. If it's $5 we'll take it. It it's $10 we'll take it. We do have some really wonderful corporate sponsors to add to our growing base of individual donors too," Nichols added.
The Single Parent Scholarship Fund, in addition to being a 501(c)3 organization, is a highly successful and competitive program.
"This program helps improve job skills and it improves lives and families," Nichols said. "Retention is 85.5 percent, which is a huge amount."
Nichols explained further how the recipient is able to use the appropriated funds.
"It's not limited. They can spend it how they need to -- on gas, food, a babysitter. Whatever it takes to get them through."
Nichols encourages eligible applicants to apply every semester for the $500 scholarship.
"This program really is one of the best ways to help break the poverty cycle while serving as an educational role-model for their children."