Marked Tree student competes in livestock show
Friday, March 30, 2012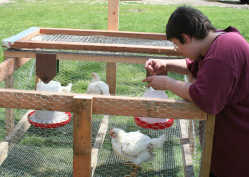 Every morning when Calvin Hensley gets off the bus at Marked Tree High School, before eating breakfast he heads straight to the pen behind the agri building to feed the chickens he's raising for competition.
Calvin will take the top three of 15 chickens he has raised since February to the Buffalo Island Livestock Show at the Greene County Fairgrounds on April 4 to be judged on muscle mass.
Calvin has been in FFA for four years, but this is his first year showing animals in competition -- and he's excited. April 4 also is his 18th birthday.
"It's pretty good right now," Calvin said. "I water them twice a day and give them good protein feed. I've learned how to feed them and when you're supposed to. We've got to get them big."
Calvin will be the Marked Tree FFA's entry in the Buffalo Island Livestock Show. The chicks were supplied by the University of Arkansas Division of Agriculture, Poultry Division. They are female broilers, which are specifically bred for meat production.
Calvin and Marked Tree agriculture teacher Chad Stoddard helped band the chicks and picked them up on Feb. 22.
In addition to helping build the pen, Calvin read a book about how to take care of them, learned to put a supplement in their water and learned to keep them warm and keep the light on them. Sometimes he even lets them eat out of his hand.
"One of our former superintendents joked that raising chickens is a 'fowl' business because if you don't keep the pen clean it stinks," Stoddard said. "Calvin's been really good about keeping the pen area clean."
"We have the top four picked out," Calvin said. "They are big. They've got a lot of meat on them."
Before the show, Stoddard said he plans on teaching Calvin how to hold three chickens at a time so he can show them at the competition.