Johnny Cash fan from Nebraska finds caring spirit in Lepanto
Friday, March 30, 2012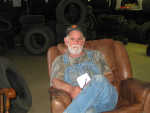 Daniel Krejci of Alliance, Neb., fulfilled a lifelong dream when he visited Dyess to see Johnny Cash's boyhood home. What Krejci did not expect, however, was a series of complications which forced him to stay in nearby Lepanto.
A few car problems and a lack of funds convinced Krejci that he should attempt to camp in his car in a vacant lot near downtown Lepanto until cash arrived in his bank account.
"I noticed him staying in his car in the lot in my neighborhood," said respected Lepanto resident Dennis (The Tire Man) Smith. "He didn't ask anybody for anything, but I told the police if it was a problem for him to be on that lot he could come and stay on my lot."
Smith said he just wanted to help.
"He had fulfilled his dream to see Johnny Cash's home. So when he was stuck here on his way back to Nebraska, he had nothing," Smith said. "Whatever me and my wife had leftover for supper, we brought him. One man took his coat off and gave it to him. A group of people gave him four or five sacks of groceries."
In addition to keeping Krejci fed and warm, Smith fixed a flat tire on Krejci's car, and Larry Steakley, also of Lepanto, fixed his starter which had gone out.
"A group of us got together and, with the help of the president of the bank, got him a room up in Osceola," Smith said. "When he was cleaned up and ready to head back home, I learned that he only had $54 dollars to make the trip with, so I gave him $100. I learned a few days later he made it home safely.
"People pull together more in a small town than in a big city. I don't want to leave anybody out and I don't want to take credit because everybody pitched in to help him."
District Court clerk Diane Ivy of Lepanto witnessed many of the same things.
"The man didn't ask anyone for help," Ivy said. "But everybody started helping in some way when they saw Dennis helping. I thought it was awesome.
"Dennis is well-respected and is always helping somebody without taking any credit whatsoever. But overall this is a real good community. Everybody helps. It is a type of place you hardly get anymore."