Trumann falls to Lady Colts
Thursday, April 5, 2012
Rivercrest's Lady Colts visited the Trumann Lady Wildcats for a girls' high school softball game this past Monday. Rivercest (14-5) got up early and cruised to a 7-1 win.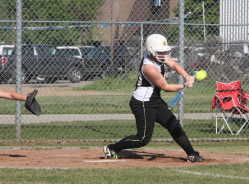 Savannah Graham led off the game with a single and advanced to third when the ball got past the left fielder. Madison Bell plated Graham with a RBI sac fly to give the Lady Colts an early 1-0.
Beall struck out four Lady Wildcats over the next three innings helping her team cling to the 1-0 lead. Her teammates gave her some breathing room in the top of the fourth scoring three runs to stretch the lead to 4-0. Bell started the inning with a walk before Chelsea Cooper reached on a bunt single. Beall knocked in Bell with an RBI single. Kelsie Wilson laid down a bunt single load the bases. Hanna Kirk's fielder's choice scored Cooper before pinch runner Alexis Graham scored the final run of the inning on an error.
Beall walked to open the top half of the sixth inning. Cooper reached on a Trumann error that allowed pinch runner Alexis Graham to score and Cooper to advance to third. Cooper scored on a passed ball to push the Lady Colts lead to 6-0.
Taylor Harston took over pitching for Rivercrest in the sixth inning. Hannah Walters singled to start Trumann's half of the sixth inning and took second when the left fielder had trouble with the ball. Macy Hicks singled and Walters scored on an error by Rivercrest to make the score 6-1.
Bell walked to start the top of the seventh inning for Rivercrest. Cooper singled to put runners on first and second. Harston reached on a fielder's choice putting runners at corner with one out. Wilson singled to score Bell and set the final score at 7-1.
Walters took the loss for Trumann going all seven innings giving up seven runs on seven hits. She struck out seven and walked three.
Walters led Trumann offensively with two hits a run scored. Sammie Jo Williams, Julia Jones, Megan McGowan, Kelly Guthrie and Hicks all collected a hit a piece.