EPC shut out at home by surging Rivercrest
Thursday, April 5, 2012
Rivercrest's Mike Sellars threw a one hit gem last Friday in Lepanto as the Colts shutout the EPC Warriors 10-0.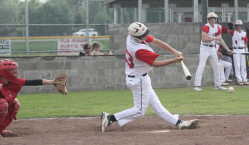 Sellars allowed no runs giving up the one hit while walking two and striking out six. His teammates staked him to an early 2-0 lead and he did the rest.
Colby Brister walked to open the top of the second inning. Dalton Taylor reached on a fielder's choice as pinch runner Justin Walker was forced out at second base. Taylor stole second base and advanced to third on an error which allowed Allen Walker to reach first base. Ethan Brown plated Taylor and Allen Walker with a triple to right field to put the score at 2-0 Colts.
Coy Chipman hit a one out single in the top of the third inning. Chipman advanced to second on a ground out and to third when Dylan Mclemore reached on an error. Brister knocked in both runners with a base hit to make the score 4-0 Rivercrest.
The Colts exploded for six runs in the top of the fourth inning. Walker opened the inning with a walk before scoring in front of Brown on an inside the park homerun. Garrett Lane singled and moved to second when Sellers reached on an error. Brister drove both Lane and pinch runner Jon Griffin home with a two out triple. Taylor then drove in Brister with a single. Brandon McLaughlin singled sending Taylor to third. Allen Walker delivered a RBI single scoring Taylor to set the final score.
Caleb Harston took the loss for EPC going all five innings giving up 10 runs on 11 hits as he walked four and struck out four.
McKenzie Betts had EPC's only hit of the game in the second inning.