Wildcats gain conf. win behind Maxwell's effort
Thursday, April 5, 2012
Truamnn picked up a 4A-3 conference win over Highland this past Tuesday at Wildcat Field in Trumann. Nate Maxwell pitched a complete game shutout while recording 12 strikeouts.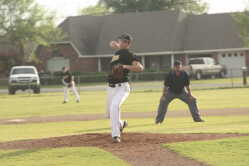 The Wildcats (13-6, 4-3) got on the board in the bottom of the second inning with Michael Criss hitting a one out single. Criss stole second base before advancing to third when Dylan Dulaney reached on an error by the first baseman. Criss scored when the Rebels pitcher tried to pick him off at third base to give Trumann a 1-0 lead after two innings of play.
The game stayed at 1-0 until the bottom of the sixth when Trumann added three runs to set the final score. Nate Maxwell reached base on an error and went to second on a wild throw from the third baseman. A.J. Winningham scored Maxwell with an RBI double. Winningham stole third base and scored when the catcher overthrew his third baseman to make the score 3-0. Justin Liles reached on another Rebel error before Jay Ryan Woods drew a walk to put runners on first and second. Liles scored when the Highland center fielder misplayed the ball hit by Cameron Jones to set the final score.
Maxwell worked all seven innings giving up one hit and no walks.
Trumann will play next in the semi-finals of the Pioneer Classic in Batesville Wednesday at 5:00 p.m. Trumann is 2-0 thus far with wins over Nemo Vista (8-4) and Bradford (15-0). Jay Ryan Woods got the win over Nemo Vista with Maxwell picking up a save. Zach Vinson hit a two-run home run for the Wildcats. In the Bradford game, Vinson got the win by allowing one hit over the three inning game. Criss had three RBIs with Woods and Winningham both collecting two RBIs on the day.