Psychologist Watson speaks to MT Rotary
Friday, April 6, 2012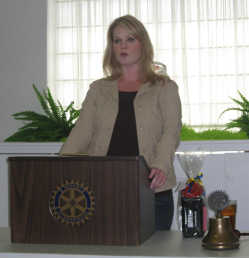 Dr. Dana Watson, Psy.D., spoke Wednesday, March 28, to the Marked Tree Rotary Club. Watson, a clinical psychologist with Families, Inc. Counseling Services, gave a brief overview of the clinics' services.
There currently are 10 Families Inc. clinics throughout the state which offer a variety of services, including: individual, couple and family counseling; case management; psychiatric evaluations; psychological evaluations; medication management; school-based mental health; employee assistance programs, and play therapy.
"We see a lot of young and old patients nationwide," said Watson, former director of the community based rehabilitation program at Counseling Services of Eastern Arkansas. "I've worked for a lot of different agencies here and in New York and at the federal prison and I'm thoroughly impressed with the quality of Families (Inc.)".
Watson indicated a goal of Families, Inc., is to "keep people out of the hospital so that they are not frequently admitted. Mood and behavior problems are among the most common, and most referrals come from courts and schools, though many are self-referring."
Watson also acknowledged that sleeping problems have increased over the past few years, likely due in part to the economy.
"People are so stressed out and so overwhelmed that now those one or two extra stressors cause something to just snap," Watson said.
Dr. Watson is located at the Trumann Clinic. Those who want more information may call 1-877-595-8869.