Trumann native's portrait of George Washington unveiled in North Carolina
Friday, April 6, 2012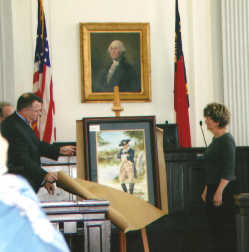 Jerry Bradley grew up in Trumann, married and raised a family here. As a young wife and mother with a full-time job, she used painting as a way to relax.
She painted while she cooked because the kitchen was large enough for her easel.
"I've ruined a lot of food during my lifetime," Bradley said, "but my family doesn't mind because, when I paint, my spirit is positively affected. Painting provides me tremendous joy and I gain great satisfaction."
When the Singer Company in Trumann closed, both Jerry and her husband, Melvin, were transferred to Washington, N.C. Within two months of moving, Jerry was working days and taking art classes two nights a week.
"I was like a kid in a candy store," she said. "I wanted to sample it all. This area is a gold mine as far as arts, and we have world-renowned teachers."
Oils had always been Jerry's medium of choice, but while attending an art exhibit featuring the award-winning watercolorist Jeffrey Jakub, her husband Melvin talked to Mr. Jakub and signed Jerry up for lessons.
After retiring, Jerry began to paint every day of the week. Although she was becoming known for her oil portraits, she was hesitant about painting watercolor portraits.
"With watercolors you can't paint over a mistake, neither can you erase. With watercolor you have to plan, and I wanted to just paint," she said.
But after moving her studio to the Inner Banks Artisans Center (www.innerbanksartisancenter.com) three years ago, she has painted 100 percent watercolor portraits.
During this year's celebration of the birthday of their city's namesake, Jerry's painting of General George Washington, titled "The General," was unveiled and hung in Council Chambers at City Hall.
"God has blessed me with my painting. Sometimes I'm overwhelmed when I see something I've painted. My thoughts are always, 'How in the world did I do that?' I know without God guiding my hand, I couldn't have painted anything," she said.
Jerry encourages everyone to check out the above website.
"We have 88 participating artists at Inner Banks. Most artists display their work in the gallery, but seven of us have studios in which we work," she said. "I especially love Saturdays and nights when the Beaufort County Music Association performs in the back. It's not unusual to see kids and adults dancing in the aisle. It's hard to work but loads of fun on crowded days like that. We've been featured in several magazines and TV programs. UNCTV did a program on us last year, and I think it can still be seen on our website."
The Bradleys have two children and three grandchildren who live in eastern North Carolina. She is the daughter of Clara Robinson and sister to Imogene Stone and Arden "Bubby" Robinson, all of Trumann.