Bobblehead collection displayed at MT museum
Friday, April 6, 2012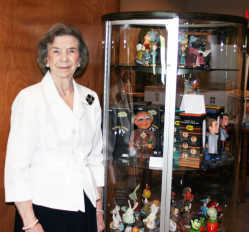 When Frank Sanders passed away in 2009, he left behind a collection of over 220 bobbleheads he had collected over the course of 25 years. Several of those bobbleheads currently are on display in the Marked Tree Delta Area Museum's latest exhibit, on loan from Sanders' widow, Jon Ellen Sanders.
Both of the Sanders were teachers, Frank for 39 years and Jon Ellen for 31, and when they retired, Frank got into collecting bobbleheads while his wife got into the antique business.
"While I was buying antiques to sell, he was buying bobbleheads," Sanders said.
The first bobblehead Frank bought was a Friar Tuck he found in Mississippi. His collection took off from there.
When Frank first started collecting them, they were called nodders -- and they were hard to find. The best places to find them were junk stores. Bobbleheads were made popular after they were produced for sports teams, though early nodders may have originated in China during the late 17th century reign of K'ang Hsi, according to the book Figural Nodders, also from Frank's collection.
"It became a fun thing for him to work on sets of presidents or musicians," Sanders said. "He liked sports figures especially and things that were familiar to him like Disney characters, but he'd take anything. Wherever we went, he picked them up. Friends knew he was collecting, so they would bring them back when they went on trips. It got to be an easy gift."
Frank was a World War II veteran born in 1925, and Mrs. Sanders thinks his childhood played a role in his collecting.
"When he was growing up, there weren't a lot of toys," she said. "I think he was living his second childhood."
Frank built shelves in his office at home to house the bobbleheads and repaired them himself as well.
"Anybody who came in had to see his collection," Sanders said. She added that part of the fun was when the grandkids came over and hit the heads.